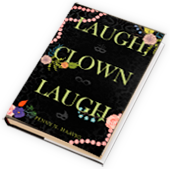 Laugh, Clown Laugh
by Penny N. Haavig
Violet hides her insecurities. grief and mental illness by playing characters on the vaudeville stage in Brooklyn. After her mother tragically dies, the 13 year-old Violet becomes the class clown. The mask covers the anguish in her heart.
The eerie voice from nowhere speaks only to Violet Pearl Moretti. Why won't it leave her alone?
Violet's colorful life weaves in and out of three decades starting with crazy acts on the vaudeville stage.
It's a flight from mental illness to sanity.
The mask is plastered on Violet's face so nobody can see the utter turmoil in her heart. Things start to unravel when her ultimate dream is shattered.
The pitfalls of dating initiate more jolts to the depths of her soul. Then, a knight without the shining armor dances into Violet's life. She's terrified to let her emotional issues escape.
Tensions, frustrations and temptations of all kinds begin to mount in her adult life. She's an outward success but an inward failure.
Violet's miserably depressed when the lingering darkness of night settles around her.
Who is she really?
Book for sale locally at Trumm Drug Glenwood and Alomere Gift Shop in Alexandria.