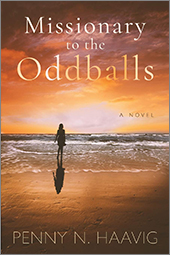 Missionary to the Oddballs
by Penny N. Haavig
"No, I'm not going to sink into depression. I won't allow it."
After a nervous breakdown and twenty shock treatments, a hidden artistic talent blossoms. Violet must juggle her successful business, household responsibilities and parenting. An emotional novel about healed relationships, divine intervention, and the restoration of things that seemed destroyed beyond repair. Violet Pearl Funk's quest is to share her faith. Will she be able to stay away from her tumultuous history of mental illness?
Historical fiction based on a true story.
Books for sale at Trumm Drug in Alexandria and Glenwood. Limited signed copies at Alexandria and Glenwood Trumm Drug stores.